Pro motorsport, Hotrod, power boats
OBR Control Systems Inc is a world wide supplier of automotive electronics. We specialize in OEM engine controllers for prototype engine development and engine testing as well as for motorsports. Engine systems can be supplied for engines having up to 16 cylinders with direct injection, port injection or a combination of the two. Systems can be supplied for gasoline as well as for diesel engines. OBR products are used in the most demanding environments ensuring performance and reliability.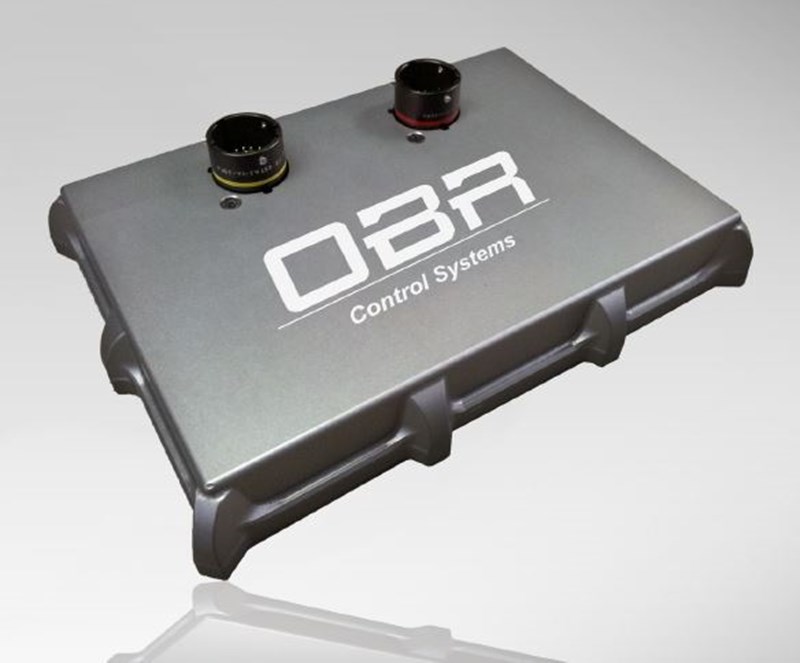 Variations
| P/N# | Model | Price in USD |
| --- | --- | --- |
| EFR14 | Driver module for DI injectors and high pressure fuel pumps | 3550 |
EFR14 Direct Injection Driver Module, max 12 Cylinders
System overview
Aircraft grade aluminum enclosure with 2 motorsport connectors
PowerPC microprocessor
12 cylinder fully sequential direct injection drivers
2 drivers for high pressure DI fuel pumps
Programmable injector currents for boost and hold stages
Programmable boost voltage
Programmable fuel pump currents for hold stages
Programmable timers in current profiles
Inputs
12 digital inputs for DI injector command
2 digital inputs for DI high pressure fuel pump command
6 analog sensor inputs (0-5V)
Outputs
12 pairs of low and high side drivers for DI fuel injectors
2 pairs of low and high side drivers for DI high pressure fuel pumps
3 independent 5.0v sensor power supplies
General
Dimensions (very small and light)

Weight 480g (16 oz.)
187 x 134 x 25mm  (7 1/8" x 5 1/4" x 1")
All aluminum and high-end vibration stable SMD PCB

2 motorsport connectors with high pin density (74 in total)
Condition for use
Temperature range -40 to 125 Celsius (-40 to 257 Fahrenheit)
Power supply 7-16v
Splash-proof
Emissions
These parts are legal for sale and use on uncontrolled (Non-Emissions Controlled) vehicles and on off-road racing vehicles ONLY.
WARNING: It is against the law to install these parts on an emissions controlled vehicle
All OBR products are exclusively manufactured for racing purposes. Installing these products on any vehicle eliminates the legal use, in any capacity, on public roads/highways and may be subject to fines and/or criminal liability as per the Clean Air Act.
Product Information
---
Pinout
---
Data Files
Description
Downloads
EFR14 firmware version 09


efr14-09.xip

( xip 0.06 MB )



---