EFI Engine Management Systems for Engine Development Programs by OBR includes ASAP3 communication
Specialized EFI Systems for Engine Development Programs and Durability Testing.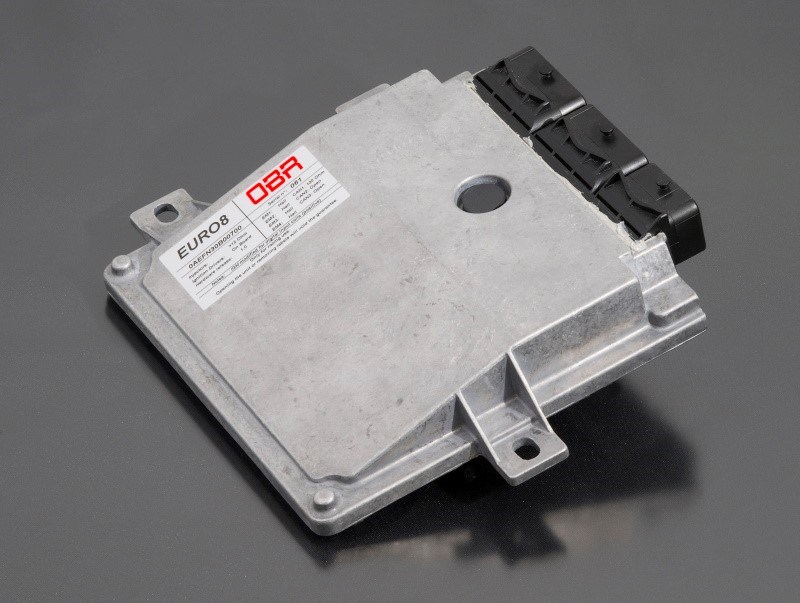 Variations
| P/N# | Model | Crank and Cam Triggers | Price in USD |
| --- | --- | --- | --- |
| EFN30C-300 | Engines with up to 16 cylinders | VR and Hall effect sensor inputs | 3542 |
Euro 8 Generic Controller for Engines up to 16 Cylinders
Presentation
Euro-8 is a cost effective generic engine controller with a customer driven software development intended for use in development and durability tests.  The ECU can control engines having up to 16 injectors with its focus on V6 and V8 engines with combined direct and port fuel injectors.  The EFR14 module is used to drive up to 12 direct fuel injectors and 2 high pressure fuel pumps.
Software is specifically developed for engine development and testing.  It includes the ASAP3 communication protocol, used for data exchange with test cell computer systems for automated test and mapping features.
Specifications
Euro-8 includes all the usual features found in a high end engine management system designed for engine development work of durability testing.
Among the special features are for example:
Automated test procedures using ASAP3 communication protocol
Easy test cell integration
Operator controlled override functions of most calibration parameters
Unique mapping procedure with closed loop automatic generation of calibration data
Programmable cylinder firing angles
Engine load as MAF, MAP or TPS; N/A, turbo charged or supercharged
Easy adaptation of crankshaft and camshaft trigger patterns
For use with engines having from 1 to 16 cylinders
Inputs for several sensors with SENT communication protocol


Ignition coil drivers for logic and power coils
Random spark sequence and offset generator


Controls up to 8 drivers for direct injection plus up to 8 drivers for port fuel injection
Control up to 16 drivers for port fuel injection
0-100% blend between DI and PFI injections
Up to 4 DI injections each cycle
Injections measured as fuel mass flow


Cylinder de-activation strategy
Boost control for dual electronic waste gates
EGR valve control
Variable oil pressure control
Variable camshaft timing for up to 4 camshafts