Membrane Switch Panels with CAN communication
The OBR membrane panel is designed to work in conjuction with the OBR Power Control Module. Some advantages: Reduces wiring complexity. Reduces weight over typical switch panel installation and wiring. Improved driver visibility.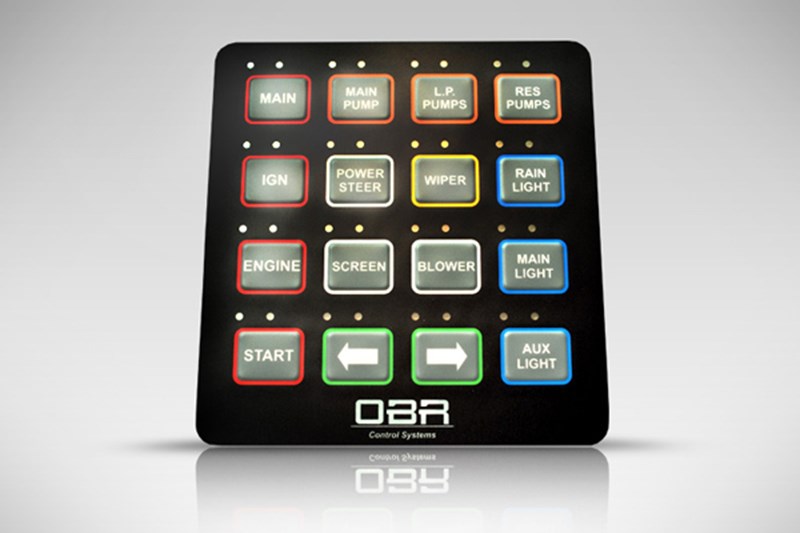 Variations
| P/N# | Model | Price in USD |
| --- | --- | --- |
| OB917 | Panels available with 8, 9, 12, 15, 16 and 20 individually programmable switches | 1080 |
Customized Membrane Panel
---
Infobox
About Membrane Switch Panels
OBR membrane switch panels (MSP) are designed to simplify the installation and reduce the wiring complexity of a traditional switch panel in a race car.
These intelligent programmable panels offer improved driver visibility, simplified cockpit layout, and complete post installation flexibility. 
Panels offer 8 to 20 switches with momentary or latching conditions, as well as up to 3 analogue inputs all exported over a simple single Deutsch ASL Autosport connection. 
Each switch panel is backlit via an inbuilt electroluminescent layer, this can be automatically dimmed in the software or adjusted over CAN bus.  To ensure even greater visibility during long distance races, the panels can also feature UV-florescent inks for button surrounds and labels. 
40 red/green LED switch status lights with local or closed loop feedback control provide excellent diagnostics and a clear indication of switch status.
OBR switch panels can be supplied in many layouts from file or designed to suit customer's individual needs; customized color graphics, labels, switch mounting holes and logos are encouraged. 
---