EFI Engine Management Systems for Engine Development Programs by OBR includes ASAP3 communication
Specialized EFI Systems for Engine Development Programs and Durability Testing.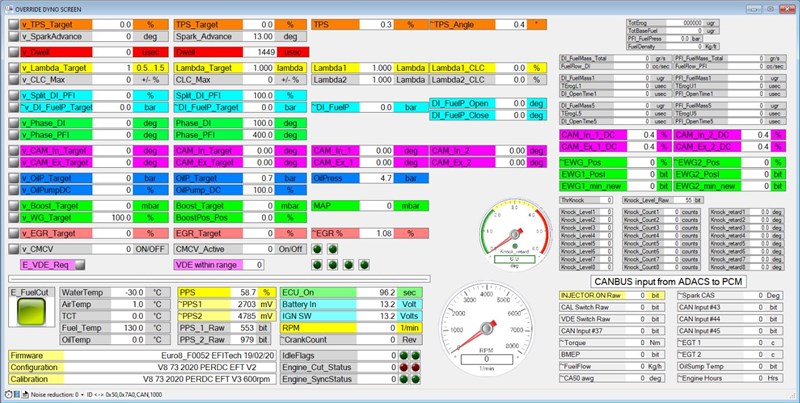 Software for Generic Controllers with ASAP3 for Automated Engine Mapping and Testing
Advantages working with OBR generic engine management systems
Configurable ECU's for 1-16 cylinders engines.
Quick engine configuration, start up and running.
Cost effective customer driven software development with short lead time.
Multiple load expressions for selectable engine types, N/A – Turbo – Supercharged.
Direct fuel injection control with programmable settings for injectors and pumps.
DI / PFI injection combination with multiple DI injections each cycle.
Control of Bosch, Hitachi and Denso DI high pressure fuel pumps with max 4 lobes.
Control of e-waste gates on boosted engines.
VVT on engines with up to 4 camshafts.
Knock control.
Variable oil pressure control.
Inputs for sensors with SENT protocol.
Cylinder deactivation strategies.
Calibration tool included with no license.
Data analysis tool included with no license.
ASAP3, Automated Tests & Override Functions

ASAP3 Communication
ASAP3 is a communication protocol used widely in the automotive industry to transfer data between dyno cells, engine management software, data loggers etc. 
ASAP3 is mostly used for automated test environments.
ECT includes the ASAP3 communication protocol for use with automated test procedures.  The protocol establishes either a serial RS232 or an Ethernet communication protocol between a system running an automated test procedure and the command of the engine management unit, the ECU.  The Ethernet solution is the preferred communication due to its superior data rate.
The communication can be between any PC on the test cell network and the test cell control system.  It can also be between any PC running ECT, including other PCs connected to the main PC. 
Our basic system allows an easy exchange of data between the PC running ECT, communicating with the ECU, and the test cells software system.
We offer an advanced solution which will allow the test engineer to write a test procedure which the PC will control with test cell interaction.
The ASAP3 communication requires an update of our standard CAN communication interface plus an updated database for your ECU from OBR.
Automated Test Procedures
OBR can supply an advanced version of the ASAP3 link in which you can generate your desired engine test procedure.  In this program you can specify any manipulation of the ECU settings to generate a test session for any length of time.  This way you can for example design a durability test session or you can prepare a test for optimization of variable camshaft timing versus applied spark advance and engine load.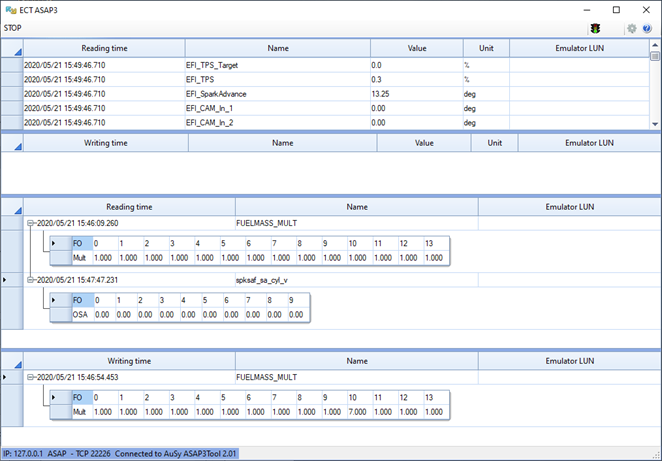 Please contact OBR for further details about this option.
Display Override Functions
Some software versions for Euro-5 and Euro-8 have additional mapping and testing features.  In these versions you can enter temporary data for most of the control parameters directly from a data display: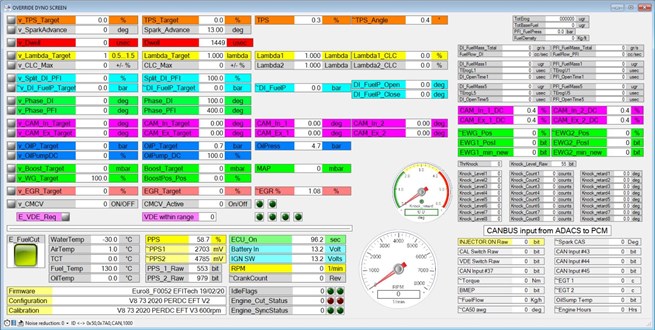 In this example you see that the programmed oil pressure target is 0.7 bar.  A different pressure target has been entered in the window on the right, named 'v_OilP_Target'.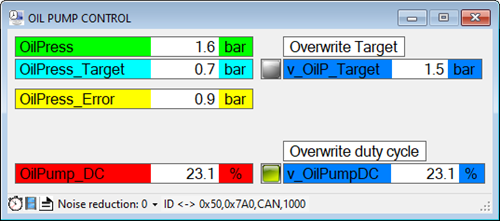 By pressing the button marked in yellow this new target for the oil pressure has been applied and the data window for oil pressure shows the new value.
Working with override function
Working with override it is recommended that you have ticked both boxes as shown in the display container setup.  To enter an override value double click the white data area in the value window.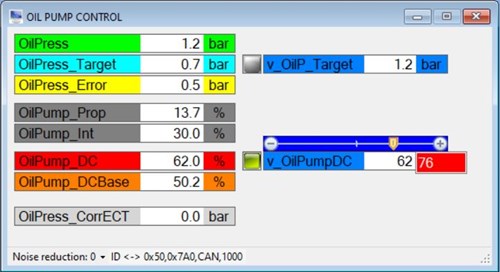 A new part of the value window opens, showing the current target value from the ECU map.
There are different ways you can change this value:

Type in a new value in the blue window.

Drag the slider using your mouse pointer to the new target value.

Use the + and - buttons to move the slider to the new target value.

Click on the blue value and use your mouse wheel to select the new target value.
If the enable button is activated, the new target is applied immediately if you have ticket both boxes in the display setup.