High Level Engine Combustion analyzer, easier and more accessible than ever before. 
This high level combustion analyzer is designed for any type of on-board or test-bed application, suitable for automotive, motorcycle, marine and off-road projects. New product - if you are a serious engine builder, you will want one of these!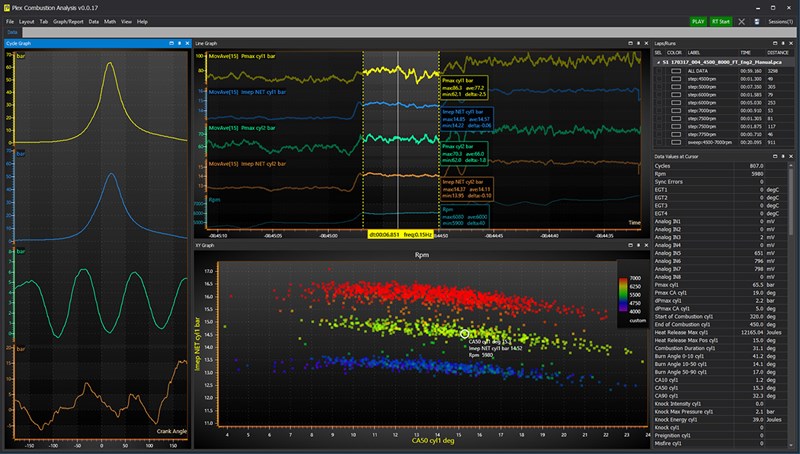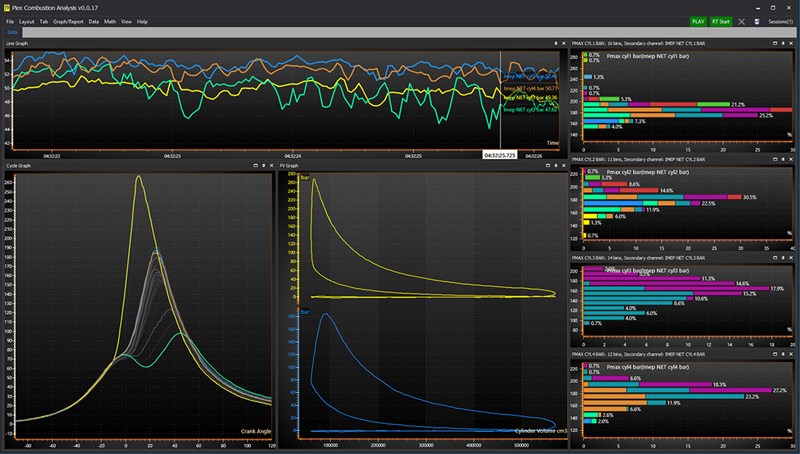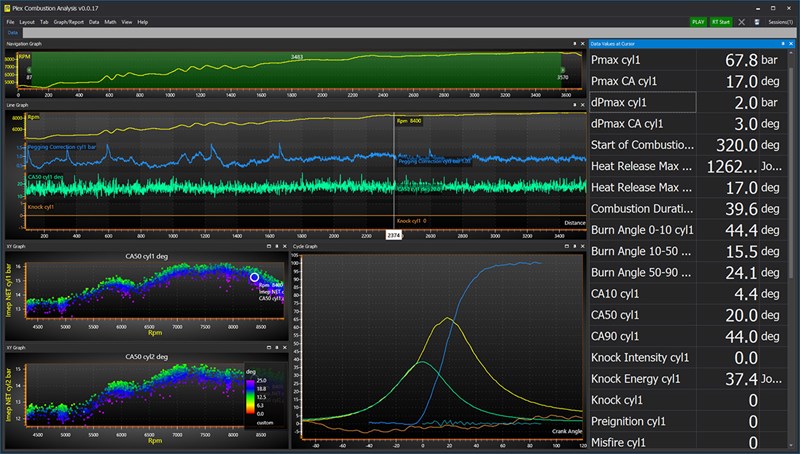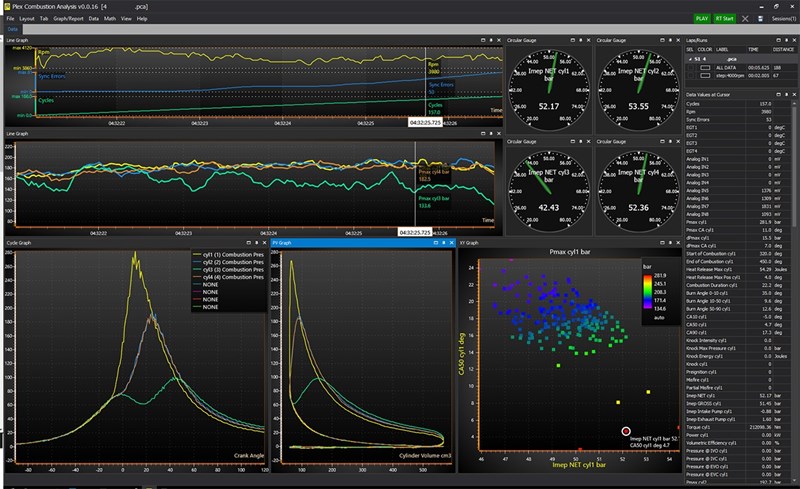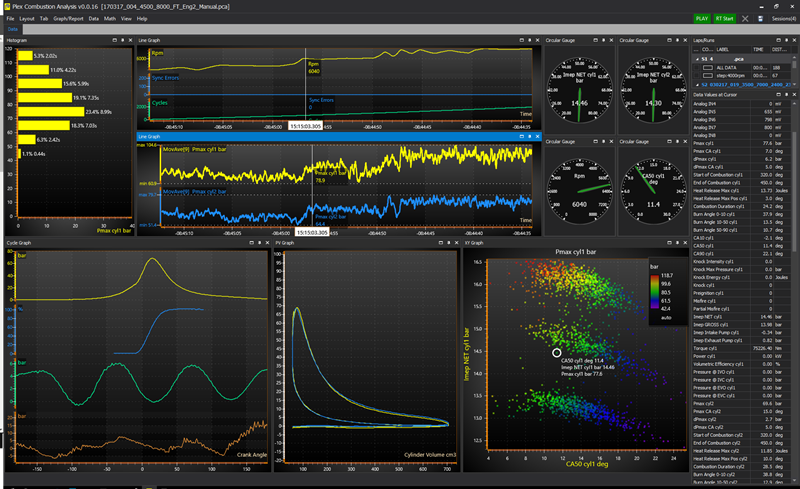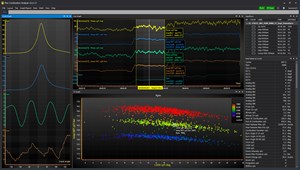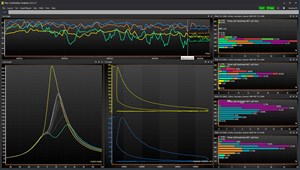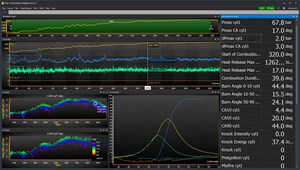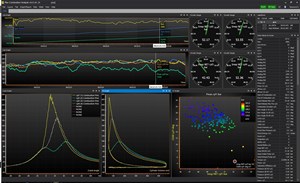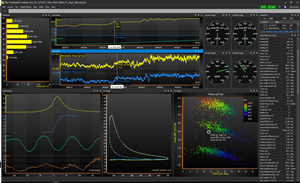 Combustion Analyzer Software
Specific Calculations
PMAX & PMAX CA

VOLUMETRIC EFFICIENCY

MASS FRACTION BURNED

DPMAX & DPMAX CA

POWER / TORQUE

COMPRESSION PRESSURE

IMEP

HEAT RELEASE

KNOCK / PRE-IGNITION / MISFIRE
Valve Motion Analysis Software Module
With the new Valve Analysis software module the PCA-2000 can be used as for data logging and processing data from a Spintron machine.
The PCA-2000 interfaces with the Spintron crank position encoder and Laser Valve Tracking system as well as other sensors including temperature and strain gauges to provide real time graphical and numeric analysis of the valve motion.  It is easy to detect valve loft, toss and bounce as well as measure spring harmonics using the valve lift, velocity, acceleration graphs and calculated values.  The modern software provides advanced customizable data visualization capabilities and also a database for storing and documents test results.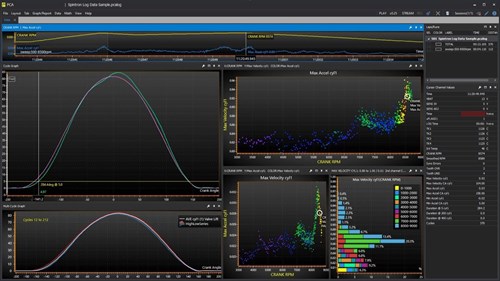 Applications and Usage

MOTORSPORTS
Engine Development & Calibration: for each cylinder study power output, fuel burn efficiency, optimum ignition timing, knock/pre-ignition/misfires, cylinder filling, intake & exhaust tuning, etc.
On-Vehicle Engine Monitoring: log combustion parameters to analyze with other engine and vehicle data and compare engine performance between track an dyno.
Engine Control: use real-time calculated combustion parameters for closed loop torque and ignition control
EDUCATION SECTOR
Academic Research: study and validate combustion processes, optimization modes and control methods
Hands-on Teaching: demonstrate real-time combustion pressure behavior
Competitions: gain advantage by utilizing advanced combustion pressure intelligence to improve performance of racing projects (FSAE, etc)
INDUSTRIAL
Monitoring: perform real-time monitoring of propulsion engines and generators
AVIATION & UAVs
Engine Development & Calibration
On-Vehicle Monitoring
Engine Control
Indicative Sensor Compatibility
Selecting the right type of sensor for each application is perhaps the most challenging area related to reliable combustion analysis as it always involves a give-and-take decision that is based on the budget, the objectives, the framework and the specificity of each project.  Our diversified experience with customers ranging from OEMs & high-end engine builders, to racing teams, universities and industrial companies allows us to provide objective advice and guidance that will enable you to make an informed decision.  Any type of pressure sensor* whether for in-cylinder drilling or with a modified sparkplug, can be fitted and configured to the PCA-2000.