Displays and Data Recording - PLEX displays, data logging and data analysis products available from OBR
Dash displays and data logging from PLEX now availabe from OBR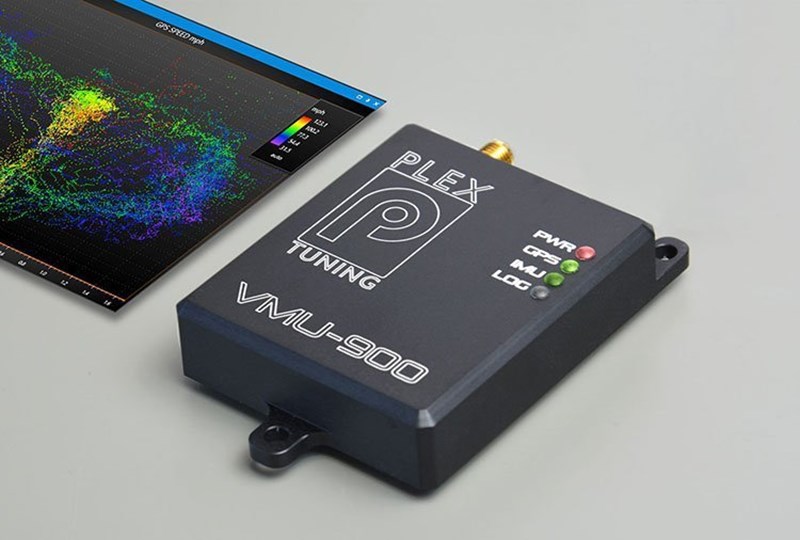 Variations
| Model | Price in USD |
| --- | --- |
| Vehicles Dynamics Module & Logger | 710 |
PLEX Vehicles Dynamics Module & Logger
Presentation
VMU-900 is our new compact data logger with an integrated 50Hz GPS /100Hz IMU module that enables very accurate measurements for a variety of applications such as driver analysis, lap timing, vehicle trajectory analysis, track mapping, acceleration-deceleration and more.  The VMU-900 comes with a fully configurable CAN BUS, an RS232 port, 5 inputs, 2 outputs, internal 32MB flash memory and is enclosed in a compact IP67 CNC aluminum body that weighs just 80g.
Description
50Hz GPS Module
A  50Hz GPS module with ultra-fast start-up time (1-3 sec) enables accurate lap-timing with section break down and raw data logging.
Status Indication LED Lights
4 status LED lights indicate the status for GPS, IMU & data logging.
32MB Built-in Memory
Ultra-fast built-in memory allows logging up to 3.5hours.
Up to 64 Data Channels
Log up to 64 different data channels, status/error flags from external sensors, connected devices and internal calculated values.
100Hz IMU Module
Accurate Inertial Measurement Unit (IMU) calculates acceleration and absolute orientation data (roll, yaw, pitch).
IP67 Environment Protection
Fully sealed enclosure effectively protects device against dust and water.
Math Channels
Create user-defined math channels that allow custom parameters to be calculated in real-time.
Full-speed Micro USB Port
Fast data-log memory downloading and easy device configuration from the PC.
Fully Configurable CAN BUS Port
Programmable CAN BUS port for msg receive & transmit lets you configure the unit to communicate with any CAN Bus device.
Configurable I/Os
Up to 5 multi-purpose inputs (ana, dig, freq) &  2 aux outputs with on-off & PWM capability.
Serial Connectivity
1x RS232 port for GPS data output.
Rugged & Compact
Similar to all other PLEX products, the VMU-900 comes in a compact & lightweight billet aluminum enclosure which makes it suitable any usage case.
Application Areas
VEHICLE DYNAMICS
XYZ acceleration and linear acceleration
XYZ rotation rate
Calculated pitch, roll & yaw angles
PERFORMANCE METRICS
Standing start and rolling acceleration tests
Brake tests
Engine & vehicle performance tests
TRACK MAPPING
Lap timing
Run comparison
Map overlay
Section analysis
LOGGING & TESTING
Log CAN BUS and RS232 data
Log sensors directly connected to the device