Displays and Data Recording - PLEX displays, data logging and data analysis products available from OBR
Dash displays and data logging from PLEX now availabe from OBR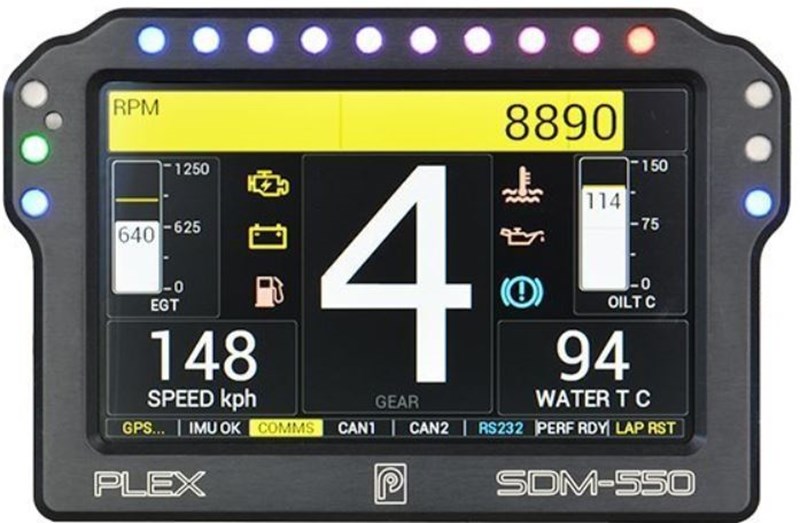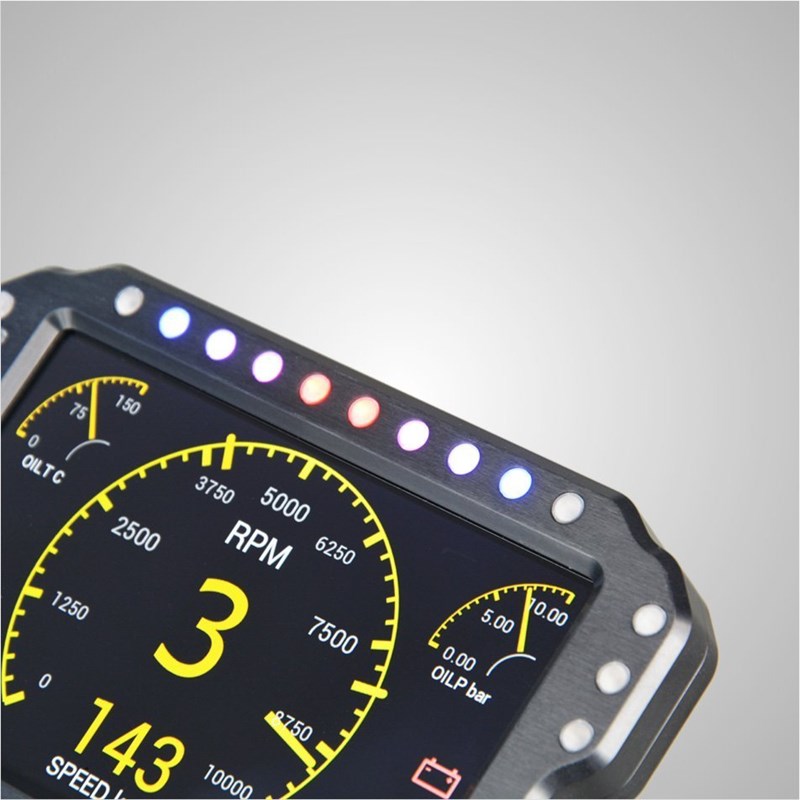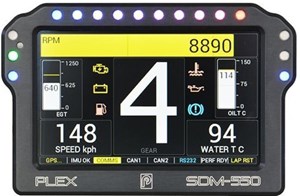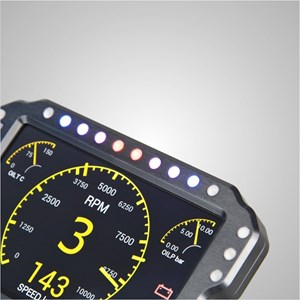 Variations
| Model | Description | Price in USD |
| --- | --- | --- |
| SDM-550 | 5" display with USB logger | 1894 |
PLEX SDM-550 Display Module
SDM-550 Display & Logger Module
The new SDM-550® is meant to become the preferred mid-size display & logger for quality driven customers.  The built-in 20Hz GNSS module with dead reckoning ensures accurate lap timing even in low signal conditions.  Configuration is very fast & intuitive and USB logging diminishes file downloading time.  The SDM-550® comes in a rugged IP67 aluminium enclosure & features an anti-reflective IPS TFT display that is viewable in all conditions. Similar to all other PLEX displays, the SDM-550® is fully configurable and provides our unbeatable clean graphics with effective viewing ergonomics.
Description
5'' Ultra-vivid IPS Display
Very bright & high contrast (800 cd/m2) 800 x 480 IPS TFT color display with high-quality broadband ARC anti reflective glass for optimum performance in all light conditions.
20Hz Concurrent GNSS Module
Built-in 20Hz GNSS Module with ultra-fast start-up time that works with all satellites (GPS, Glonass, Galileo, Beidou) for accurate lap-timing with section break-down & raw data logging.
Smart Alarms / Warnings
Easy to set-up pre-loaded smart alarms with history of the last 100 kept in memory with time, duration and value.
Compact & Rugged
IP67 sealing, rugged CNC aluminum enclosure and very compact dimensions (size & depth) to fit on every type of dashboard.
Quick-Glance™ UI
Proprietary UI design ensures optimal viewability and reduced driver distraction by optimizing smart color coding and contrast for the driver's peripheral vision.
100Hz Inertial Measurement Unit
Accurate Inertial Measurement Unit (IMU) that combines accelerometer, gyroscope and magnetometer to calculate the vehicle's specific force & angular rate: pitch, roll and yaw.
Up to 512 Data Channels
Display up to 512 data / flag channels from an ECU, OBDII, sensor and internally calculated parameters.
Sealed Automotive Connector
10x multi-purpose inputs (analog, digital, frequency) that can be configured for any type sensor, plus two auxiliary outputs.
Automatic Page Changing
Hands-free display page changing based on user-defined conditions such as engine status and/or load to help you keep your attention focused.
Performance Measurements
Integrated performance meter functionality that runs constantly in the background calculates vehicle acceleration & deceleration performance.
Fast & Easy Wi-Fi Configuration
Quickly configure CAN BUS receive / transmit, design custom pages, set smart alarms or setup multi-use inputs & aux outputs.
Unlimited USB Logging
Unlimited logging memory using USB flash drives for zero file download time.