OBR Crate Engine Control Pack - 7.3 V8 Godzilla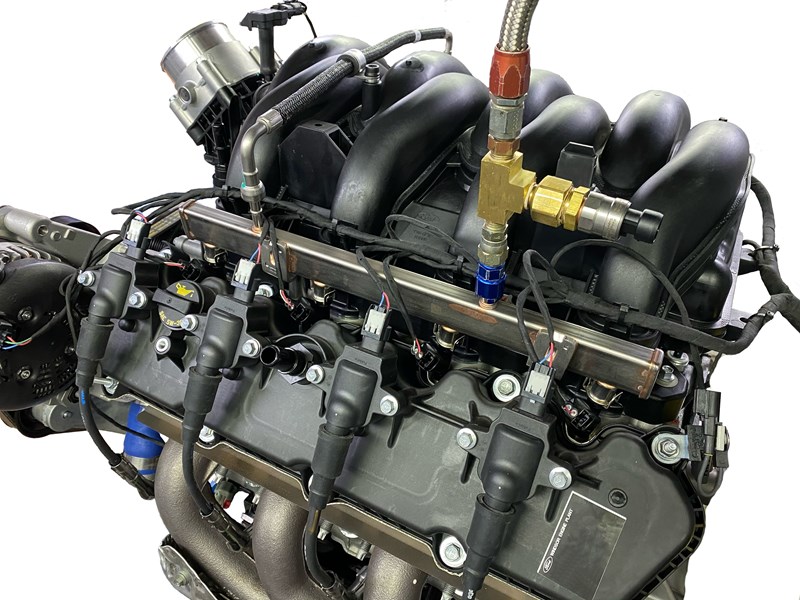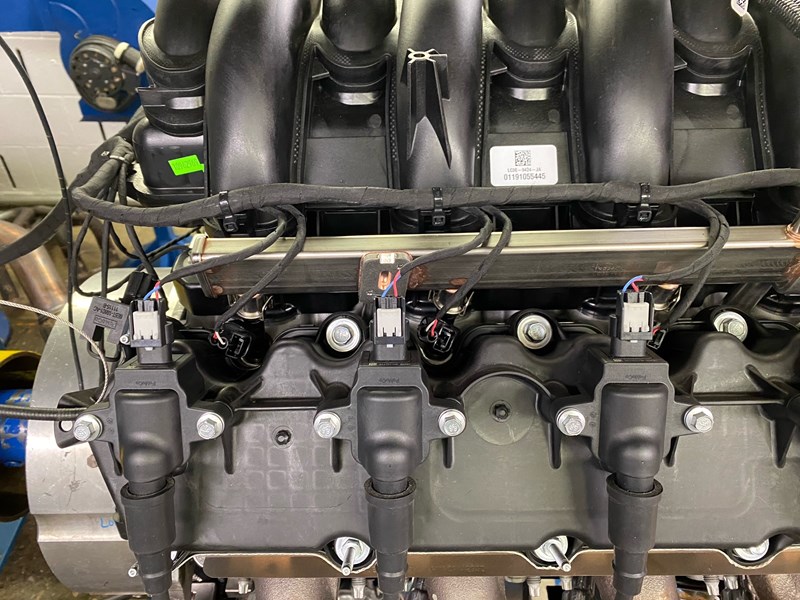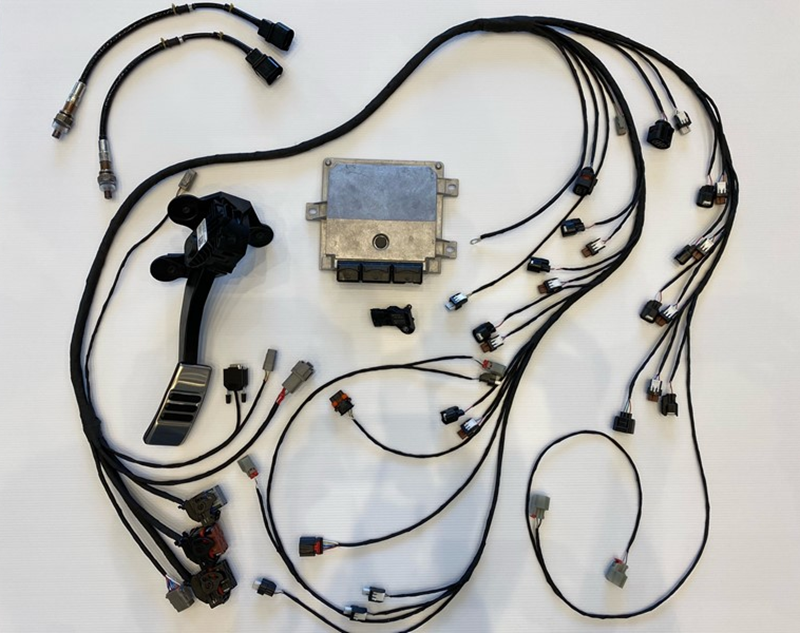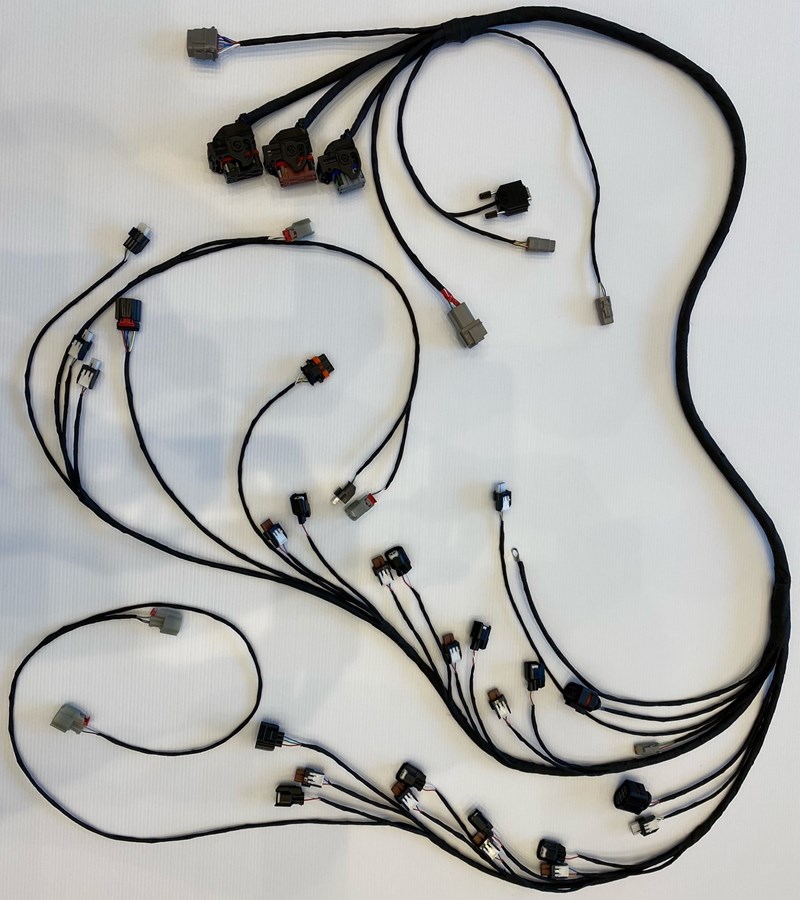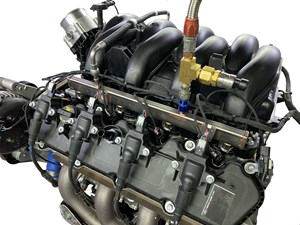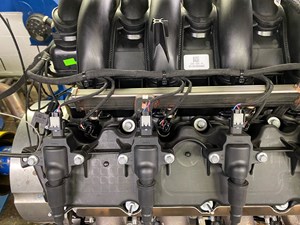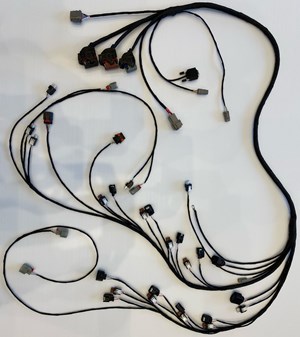 Variations
| P/N# | Model | Description | Price in USD |
| --- | --- | --- | --- |
| OB202-G | Godzilla | Controller kit for Godzilla crate engine | 3550 |
| OB301-B | Godzilla | Coolant plug kit for Godzilla engine (2 black plugs) | 50 |
| OB301-S | Godzilla | Coolant plug kit for Godzilla engine (2 silver plugs) | 50 |
| OB255 | Godzilla | Fuel pressure sensor kit, 150 psi range | 145 |
| OB257 | Godzilla | Manifold air pressure sensor kit, 60 psi range | 145 |
| OB251 | Godzilla | Throttle pedal kit with cable | 154 |
| OB6312-V | Godzilla | Wide band lambda sensor for closed loop fuel control, each | 248 |
| OB804 | Godzilla | High flow fuel injector | 304 |
| OB302 | Godzilla | Alternator installation kit, complete | 760 |
Ford 7.3 V8 'Godzilla' Crate Engine Control Pack
What the base kit includes....
Our kit for the 7.3 V8 'Godzilla' engine is based on our E8G ECU.  This controller is specially configured to control ALL standard features on the Ford engine, you do NOT have to change or modify any sensor or actuator on the engine.
Our base kit comes with:
- OBR E8G stand alone engine controller - ONE single module to control your engine!
- New OBR high quality engine wiring harness for our E8G controller and with standard Ford connectors for all sensors, actuators, coils and injectors.
- Power supply cable with main relay and fuse plus connections for fuel pump relay, fan relay and tach.
- E8G calibration for the standard crate engine using standard fuel injectors, ignition coils, throttle body and all sensors.  Loads of power and torque.
- Bosch TMAP air pressure and air temperature sensor used for calibration.
This kit controls all standard sensors, coils and actuators:
- The standard drive-by-wire throttle body, reading its data stream directly.
- Variable camshaft timing in closed loop.
- Variable oil pressure in closed loop.
- Standard ignition coils.
Installation:
Installing our control pack is straight forward:
- Fit the adapter for the Bosch pressure and temperature sensor.
- Fit our new engine harness, it comes complete with original connectors, nothing to modify on the engine.
- Plug the throttle pedal in.
- Plug the included power supply harness into the engine harness power connector.
- Connect the two power supply wires according to the instructions.
- Connect the fuel lines and adjust your fuel pressure to 58 psi.
- Connect the headers to the exhaust system.
Your engine is now ready to be started, no calibration or adjustments are required. 
We have done all the hard calibration work.
Connection to instrument cluster:
Our ECU can send data via CAN to almost any instrument cluster which have a CAN link for importing data.
We are building a database for instrument clusters for which we have confirmed they will function with our ECU.  Please contact us if you are in doubt whether your cluster is able to import data via CAN and how to set it up.
*BREAKING NEWS*  -  *BREAKING NEWS*  -  *BREAKING NEWS*
We are working on an update of the software which will add a true OBD II port to the system. 
With this option you can plug any OBD II scan tool into the connector on our wiring harness to read engine data. 
You will also be able to connect a stand alone display module which is prepared for OBD II communication.
Where to purchase our Godzilla control pack:
Our kit is supplied through selected specialist dealers across the country, these tuning shops can access E8G's software features.
So if you are thinking about modifying your engine, for example by fitting a high performance camshaft, fitting a supercharger or going for a turbo solution, our kit is easily updated to accept such changes.  Ask us about these performance updates.
Dealer inquiries are welcome.
Options for the Godzilla control pack....
Kit options include:
- Coolant plug kit.
- Ford drive-by-wire throttle pedal with wiring.
- Optional closed loop fuel control by adding 2 x wide band lambda sensors to the kit.
- Alternator fitting kit.
- Shift controller for 6R80 automatic transmission.
- Fuel pressure sensor.
- Upgrade kit with injectors, new TMAP sensor plus upgraded calibration for boosted engines.
- Traction control.
Coolant Plug Kit
Our coolant plug kit is required to block off the coolant outlet in the block on the driver side and to block off one of the coolant pipes for the heater.  This pipe is located in the front of the block, next to the thermostat housing.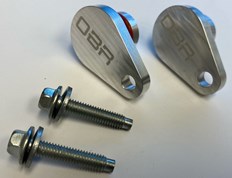 Ford Drive-By-Wire Pedal Kit
This kit is a direct plug in for use with our control pack.  Supplied with connection cable.

Wide Band Lambda Sensors
By adding one or (preferably) two wide band lambda sensors to your control pack the system monitors, regulates and learns the optimum fuel injection.
This is perfect way to ensure your engine always runs at its optimum calibration.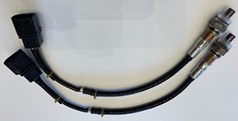 High Flow Fuel Injectors
If you are planning to build a high performance engine with power exceeding 570 hp you will have to consider replacing the standard fuel injectors.  These new injectors flow a lot more fuel, rated at 68 lb/hr @ 73 psi fuel pressure.  They are a direct replacement of the standard injectors, same length and same connector.  With these injectors it should be possible reach about 850 to 1,000 hp using gasoline, not E85.



Fuel Pressure Sensor Kit
150 psi stainless steel fuel pressure sensor kit complete with adapter cable plugs straight into the OBR engine harness.  No re-calibration is required, the control pack is configured for use with this sensor kit.
The sensor has a 1/8-27 NPT male thread, compatible with most pressure regulator blocks.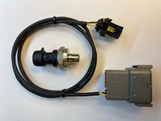 Manifold Air Pressure (MAP) Sensor Kit for Supercharged and Turbo Engines
60 psi stainless steel air pressure sensor kit complete with adapter cable plugs straight into the OBR engine harness.  To use this sensor a re-calibration of the control pack is required, please contact us for assistance.
The sensor has a 1/8-27 NPT male thread.
Alternator Fitting Kit
The crate engine is supplied without an alternator.  We have parts available to fit an alternator to the engine.
These parts are required to fit a single alternator to the engine:
- Alternator.
- Bracket.
- Belt tensioner.
- Pulley.
- Mounting bolts.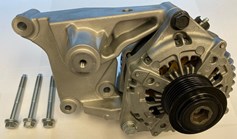 Automatic Transmission Shift Controller
Check back here soon to follow our progress in offering a solution for controlling at first the 6R80 and later the 10R80 automatic transmissions.
Lambda Kit for Engine Development
For engine development work, where the combustion in each individual cylinder must be monitored, please see our kit OB401.  The ECU in our control pack can import lambda data from additional sensors via CAN, up to 16 sensors can be added to the system.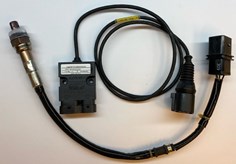 Emissions
These parts are legal for sale and use on uncontrolled (Non-Emissions Controlled) vehicles and on off-road racing vehicles ONLY.
WARNING: It is against the law to install these parts on an emissions controlled vehicle
All OBR products are exclusively manufactured for racing purposes. Installing these products on any vehicle eliminates the legal use, in any capacity, on public roads/highways and may be subject to fines and/or criminal liability as per the Clean Air Act.
OBR Control Pack Installation Guide
Description
Downloads
OBR Control Pack Installation Guide
Check out how simple and straightforward the installation of the Ford 7.3 V8 crate engine control pack is. Please note, that the OBR wiring harness is a replacement for the original harness, finished with the right lengths and connectors for a perfect fitment and for all standard sensors and actuators. Once fitted, you have to connect 2 (TWO) wires for the power supply and ignition switch, then you can start the engine - once the fuel line is connected. We have done all the hard work - no calibration work is required for a standard crate engine!

ford-7-3-v8-crate-engine-control-pack.pdf

( pdf 1.66 MB )



---
Watch 5 Bar Motorsports testing the OBR control pack on their turbo charged Godzilla engine.
Godzilla performance camshaft installation and power run. Thanks to Revan Evan and Brian Wolfe from Willis Performance Enterprises.
A very interesting oil system for the 7.3 engine from Indy Power Products. Thank you Jim Ryder from IPP, Brian Wolfe and Revan Evan.